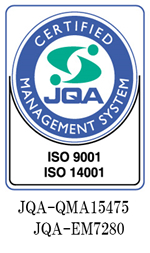 Since founded in 1924, Asano Gear Co., Ltd. has been operating as an independent company,responsible for development, production of gears as well as drive axle assemblies, speed reducers and special transmissions for ranging compact vehicles to heavy vehicles.
As the major factor in measuring up against competitors and as the cornerstone of a good reputation, highest quality and technology development come first.
Quality to us means the vital understanding that all customer needs must be met. These standards are not coincidental and are the key to success. To meet and exceed the high expectations challenging us, we have developed a comprehensive quality assurance system. We fulfill the requirements of our customers and international authorities, such as ISO 9001 at 2000.
Another key factor in staying the competition is innovation of technology. We suport our customer needs with innovative engineering and to ensure continued success in the future,
Company Policy
1. As a big role of community, we are dedicated to improve our people's welfare based on good relationship.
2. We will be one of the best gear manufacturers, through reliability, excellent quality, continuous innovation of technology as well as cost reduction activities.
Be the Customer's First Choice!!